At Points West Finishing we specialize in custom stair railings and fireplace mantels. We have surrounded ourselves with high caliber tradesmen who assist us and take pride in supplying professional and quality services. We fully stand behind our products and services 100%.

Call 604-941-2651 for a Quote!
heading 2 colums
description 2 columns
heading 2 columns right
description 2 columns right
Pre-finished Wooden Stair Railings for a clean, professional installation for your new construction or home renovation project. We also offer decorative metal (wrought iron) railings or a variety of wood and glass railings. Call us to discuss your options.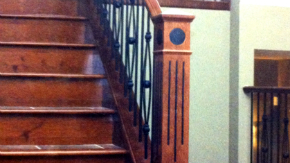 Wooden Stair Posts with optional metal inlays for an elegant looking staircase.
optional full width heading
optional full width description